Babies usually need burp cloths for as long as they're fed by bottle or breast. 
Babies have immature digestive systems. Also any newborn baby has a tendency to swallow air along with milk while feeding, breast or bottle. So if you put the baby to bed before burping they might end up with vomit all over their face and the bed too.
As a precaution, it is necessary for parents to bring them to burp before you lay them on the cradle or crib. It is safe to make them burp so that they don't choke on their own vomit.
At times when they go to sleep while on the teat or nipple it is generally safe to let them sleep without burping. If the baby is pulling away while being fed, or getting squirmy, they need to be burped.
How to make your baby burp?
After feeding your newborn baby/infant, spread the Burp cloth over your shoulder. Prop up your baby so they're facing your cloth-covered shoulder. Then start gently patting their back for a few minutes till they burp.
Gentle patting or rubbing your baby's back can help release trapped air. It provides relief from any discomfort caused by gas. You won't need to worry about dirtying your clothes if they drool or spit up, as it would land on the burp cloth instead of your clothes.
Does your newborn need a burp cloth?
Burp cloths serve as a barrier between your baby's mouth and your shoulder or chest. A burp cloth is a necessity from day one –as soon as the feeding ritual begins. Babies generally will outgrow the need to be burped once their digestive system improves. It might take 6 to 9 months for the baby to be old enough to move beyond the need to be burped.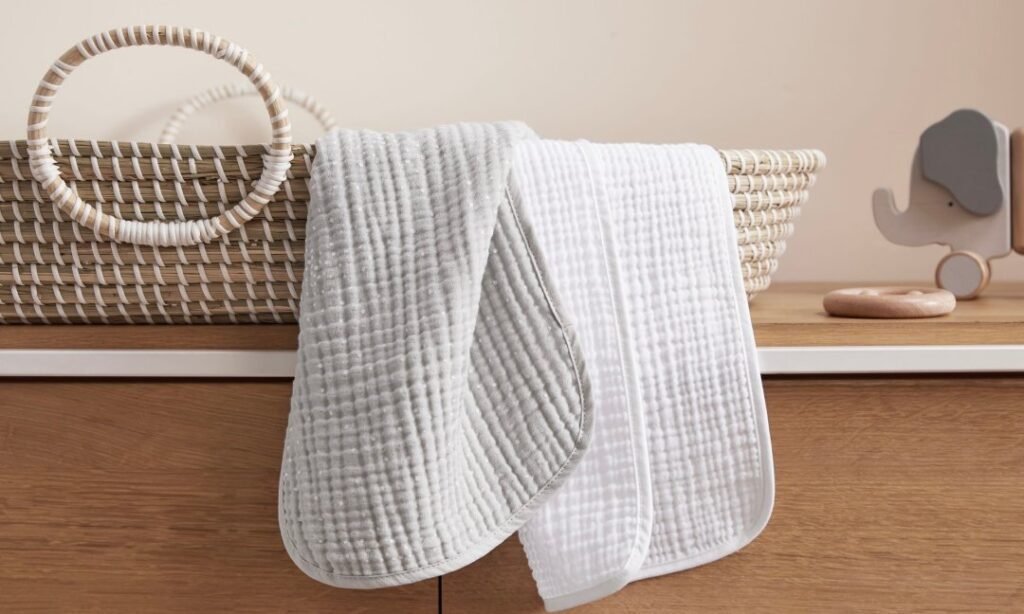 How many burp cloths will your baby need?
If the burp cloth that you buy is quick drying you might need 4 to 8. But drying times may vary based on climate conditions, use cycle and frequency of laundry. Newborns have a tendency to get hungry every couple of hours. So you might need more burp cloth at the beginning of your parenting journey than later in the months.
How would you find if the Burp Cloth is safe for your baby?
Ensure that it is printed from AZO free dyes and other toxic chemical dyes. It is best to reach for Burp cloths made from Organic Cotton /Muslin. Organic Muslin being highly water absorbent doesn't let the spittle, vomit or drool, flow onto your clothes or shoulder.
Also Muslin has quick drying times as compared to other materials/fabrics. Moreover, Muslin Burp Cloths are sturdy enough to endure frequent wash cycles. A safe, child-friendly burp cloth becomes a necessity when your baby is teething.
Babies need burp cloths during and after feeding for a few reasons:
Reflux Action: It's common for newborn babies/ infants to spit up small amounts of milk or formula during or after feeding. Burp cloths are used to catch and absorb vomit, keeping the baby and your clothes clean.
Preventing Mess: When you hold your baby against your shoulder or chest to burp them, a burp cloth can help protect your clothing from any spit-up or drool.
Maintaining Hygiene: Babies tend to have frequent episodes of drooling, especially when they are teething. A burp cloth can be used to wipe away drool and keep the baby's face and clothes dry and clean.
Comfort and Soothing: The soft texture of a burp cloth against the baby's skin can add an extra layer of comfort during this process.
Muslin burp cloths are essential accessories of your baby's feeding routine. It will help keep both the baby and yourself clean, and help you maintain a standard of hygiene. When you have a couple of pairs of Burp cloth it also reduce the need for immediate laundry for which you do not have the time for right now.